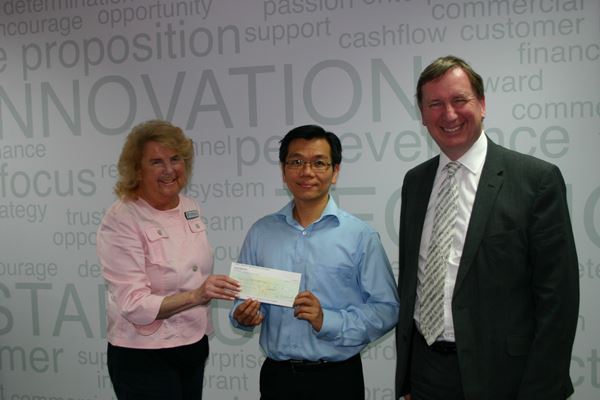 Grant for Tidal Harness
Forward-thinking company receives cheque
Test Valley Borough Council has awarded a £500 Business Incentive Grant to Dr Steve Khoo, an entrepreneur with an ambition to produce a cheaper and reliable way of generating electricity.

Steve's new company, Tidal Harness, is based in Chilworth at Southampton University's Science Park.. The new company builds turbines that harness energy from water at a cheaper rate than off-shore electricity sources. Steve's products use simple, submersible generators which have only one moving part, making them much more reliable and effective.

Steve said: "We moved to Hampshire from the midlands to be in a better location for testing our products. Tidal Harness is a young business but we are confident that with continued support from Test Valley Borough Council and the Southampton Science Park, we will have lots of opportunities to develop. I'd like to thank the Council for the Business Incentive Grant."

Chilworth, Nursling and Rownhams ward member, Councillor Alison Finlay, presented the cheque to Steve. She said: "This is a really exciting technology which promises to deliver energy from a naturally-occurring resource. It requires very little human intervention which demonstrates that Tidal Harness is a forward-thinking business. I wish Steve every success for the future."

The Council's Business Incentive Grants are available to anyone looking to set up their own business in Test Valley. Anyone who successfully applies for the grant after 1 April 2016 will receive a grant of £750 if their business is still going strong six months later.