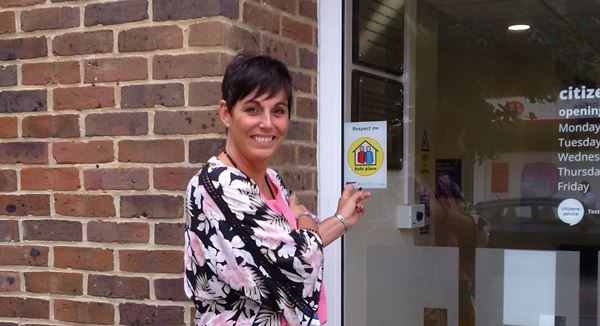 Council's Romsey office is a Safe Place
Test Valley Borough Council's Romsey office has been designated as a Safe Place, where vulnerable members of the community can trust that staff have committed to helping anyone feeling lost, scared or upset while out on their own.
Council workers at the Former Magistrates' Court on Church Street have received training on how to support vulnerable members of the community by making use of Safe Place cards. A Safe Place is a shop, or any other type of business, that has agreed to offer support if someone needs help as a result of vulnerability. Participating businesses display a Safe Place sticker in their window, showing that anyone who needs help or support can pop in and speak to staff. There are now more than ten businesses in Romsey that have signed up as a Safe Place.
Community and Leisure Portfolio Holder, Councillor Tony Ward, said: "The Safe Place scheme is fantastic for local residents who may need a bit of extra support. Anyone who is likely to require this help will be given a card with the phone numbers of an agreed trusted person on it, and if they need a Safe Place while out and about, they can find somewhere displaying the sticker and ask staff to contact their trusted person for them."
For more information on how to get a Safe Place card or join the Safe Place scheme, please contact Test Valley Community Services.