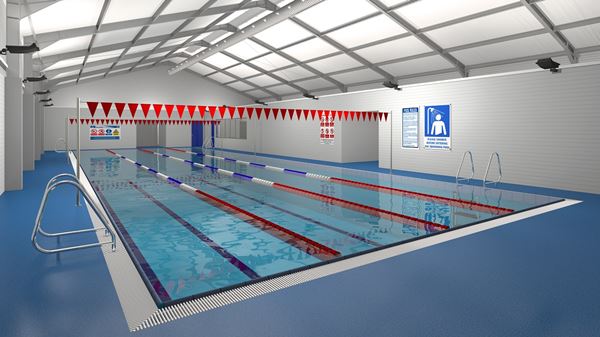 Temporary Pool – new information
The building of a temporary swimming pool for Andover has seen rapid progress since May when it started to be erected at the Shepherds Spring Lane car park. The pool building and concrete base are now in place and the project is nearing completion.
However, the contractor responsible for delivering the pool has advised that they are now unable to meet the initial contractual completion date due to a breakdown in the supply of certain building materials.
Community and Leisure Portfolio Holder, Councillor Tony Ward, said; "Total Swimming are working to progress the temporary pool as quickly as possible and have given us a revised opening date of 29 September.
"Naturally, we are bitterly disappointed that this delay has happened, and feel let down by the news, especially as significant progress had been made in the early weeks of building.
"We apologise to those customers who have made bookings and the Andover Leisure Centre will be in touch with them. In the meantime, customers are still able to use Fleming Park Leisure Centre in Eastleigh and River Park Leisure Centre in Winchester, under the current arrangements.
" In addition, Places for People and the Council will be working with the other interim swimming venues to ensure the swimming club can continue to use those facilities until the temporary pool is opened.
"Once the temporary pool opens in September it will remain available for use until the new Andover Leisure Centre is completed in March 2019."
Adrian Turner, Executive Director of Total Swimming said " We share the Council's frustration especially as this is the first delay in our company's ten year history. We have been let down by a third party and this has created a knock-on effect. We are doing everything we can to speed up the build."
As soon as we have any more news we will communicate this, but in the meantime if you have a booking related query then please contact the Leisure Centre at enquiries@andoverswimmingpool.org.
Construction on the new Andover Leisure Centre which is being undertaken by a different contractor as part of the leisure management contract has already begun and is on track to open Spring 2019 as planned. Customers can see the latest photographs and keep up-to-date on construction news at:
www.placesforpeopleleisure.org/centres/andover-leisure-centre/