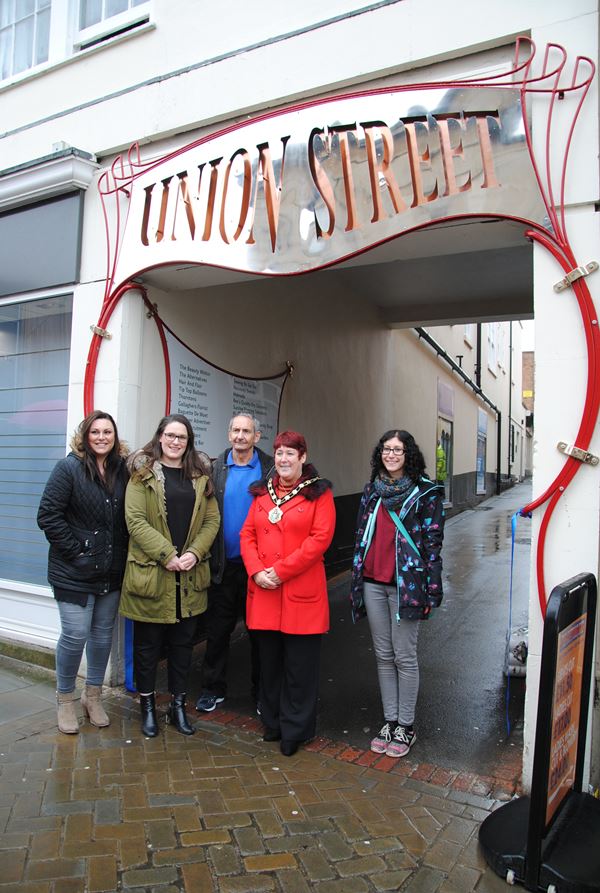 Mayor unveils Union Street arch
Second arch is unveiled in High Street
Union Street businesses are set to benefit from better signage thanks to the installation of a second Andover arch.
Mayor of Test Valley, Councillor Karen Hamilton, unveiled the new arch, which will signpost shoppers to the businesses located just off the High Street. The first arch at the entrance to George Yard was installed in August last year.
The decorative Union Street arch was designed by renowned artist, Peter Clutterbuck. The Mayor was joined by councillors and staff from local businesses as she cut the ribbon to formally unveil the structure on Monday, 16 January.
The idea to enhance signage for the shops came from feedback from the Andover Summit, which aimed to rejuvenate the town centre and increase footfall. This work now continues through the renewed Andover Vision. The five remaining arches are planned for Waterloo Court, Shaw's Walk, Globe Yard, King's Yard and Black Swan Yard.
Leader of the Council, Councillor Ian Carr, said: "I'm really pleased that the second arch has been installed. This is a fantastic project that attracts attention to some of the independent businesses located just off the High Street and it looks great alongside the first arch we installed at George Yard. I'd like to thank Peter and his team for all their hard work and I'm looking forward to seeing the project progress further as the remaining five arches are put in place."
Peter Clutterbuck, whose previous work includes the War Memorial Park gate in Hedge End and Falklands memorial arch in Fareham, added: "I'm thoroughly enjoying working with the Council and the local businesses on this project. The arches are a great way to enhance the look of the High Street so it will be good to continue work on the next part of the project."