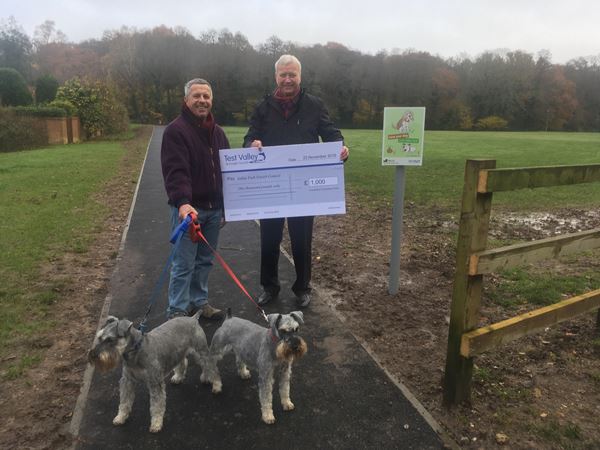 New signs for Valley Park
Children ask people to clear up after their dog
Three children will see pictures they drew turned into signs that will encourage dog owners to clear up after their pet.
Test Valley Borough Council ward members for Valley Park, Councillor Alan Dowden, Councillor Kath Tilling and Councillor Andrew Beesley, presented a £1,000 grant to Valley Park Parish Council to create the signs from images submitted in a children's drawing competition.
Around 40 children took part in the drawing competition last year. The three winners, Sarah Moore, Jessica Billimore and Aminah Tadvi, all aged 9, will see their pictures turned into metal signs, bin stickers and laminated posters, and displayed around Valley Park.
Councillor Alan Dowden presented the cheque to parish Councillor Clive Anderson and said: "Valley Park has some lovely places for people to walk their dog, but unfortunately some residents don't clear up after their pet and the areas can be left untidy. I was impressed with how creative the children were with their designs because it shows that they really care about their local environment."
Councillor Clive Anderson added: "We are all very grateful for the funding. We hope that the new signs will remind dog walkers that local people care about Valley Park and that it is unacceptable to leave the area in a mess. As well as being untidy, it is also unhygienic, so we are committed to eradicating the problem in Valley Park."
The Councillor Community Grant scheme helps to fund community-led initiatives. Local councillors allocate funds to projects that they identify as meeting a need in the community based on feedback from residents.