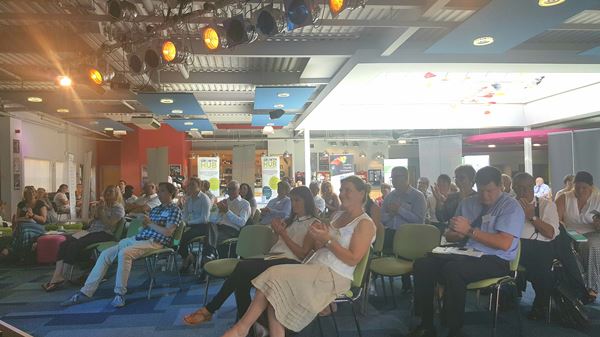 Business growth boost
Business was booming in Test Valley last week as a networking event brought entrepreneurs, small business owners and local traders together to share ideas and contacts.
More than 100 people from across the county attended the event, which was held at The Lights theatre in Andover and jointly organised by the Enterprise M3 Growth Hub, Hampshire County Council and Test Valley Borough Council. Visitors listened to presentations from four guest speakers, learned from numerous business support organisations and discussed topics including social media, finance and exporting. The schedule included plenty of opportunities for attendees to gain valuable advice from simply networking together.
Economic Development and Tourism Portfolio Holder, Councillor David Drew, said: "The Boost your Business Growth event was a huge success and I'd like to thank everyone who came along. Events such as this form part of a wide range of support we offer to businesses and we have received a lot of positive feedback from attendees. Events where business people come together, meet and share experiences are vital. In the age of the internet it's all too easy to forget that its people who make businesses and business work. Everyone learnt a lot from speaking to others and listening to the presentations."
Rebecca Owen, from Coyote Fitness, added: "The talks were very informative and they catered for all types of business. Whether you wanted to know about sales and exports, how to use social media to your advantage or general business consultancy, there was something for everyone, and the breaks in between each lecture gave us all the chance to network in a relaxed environment. I always learn so much each time I attend events like this and I can't wait for the next one!"