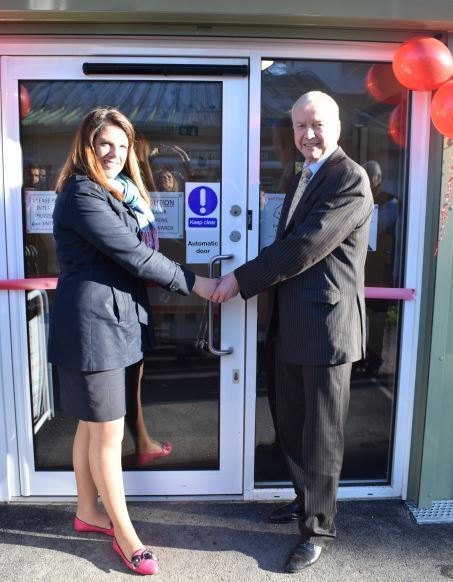 Celebrations as new pre-school building officially opens
Children, parents and staff at Knightwood pre-school celebrated the official opening of their brand new building on Saturday 25 November and thanked their MP, County and Borough Councillors for their help and support.
The day nursery previously used a studio within the Leisure Centre complex. As part of their plans to improve sporting and leisure facilities across the Borough, Test Valley Borough Council are making changes to the Knightwood Leisure Centre. As a result, they offered to relocate the pre-school to a new free standing building next to the leisure centre in Skys Wood Road, Chandlers Ford.
The bespoke building includes a play area, quiet area, holiday club room, staff office, store, kitchen and toilets.
Test Valley Borough Council Community and Leisure Portfolio Holder, Councillor Tony Ward said: "We were able to provide the relocation of what was a temporary facility to its own purpose build OFSTED approved nursery. It offers a huge improvement in facilities for the children and peace of mind for parents in need of childcare."
"In addition, it means increased capacity at the Knightwood leisure centre where a new state of the art 25 station gym will shortly be opening, offering a more varied programme to encourage activity for local residents . This is a win win situation for all concerned."
Leader of Hampshire County Council, Councillor Roy Perry, who attended the opening said: "I was delighted to see the children and staff enjoy their new building, which provides a much-improved facility and increased number of pre-school places for local families. As a County Council, we were happy to support Test Valley Borough Council in providing a bespoke building, designed by our in-house Property Services team who have a wealth of expertise and experience in creating spaces that encourage learning."
The plans were supported by Hampshire County Council and Valley Park Parish Council as well as local parents. The joint owners of Knightwood preschool, Catherine Botto and Carly Dorney said: " We would like to thank the Test Valley Borough Council team, Hampshire County Council and all the others who have worked very hard in the background to keep our fantastic early years and after school and holiday club provision alive."
Picture 1 caption: MP for Romsey and Southampton North, Caroline Nokes cuts the ribbon to officially open Knightwood pre-school's new building with Valley Park ward member, Councillor Alan Dowden.
Picture 2 caption: MP for Romsey and Southampton North, Caroline Nokes joins local councillors and staff from Knightwood pre-school to celebrate the official opening of the new building, together with parents and children.
Note to Editors:
The Knightwood Leisure Centre, Skys Wood Road, Chandlers Ford, Eastleigh Hampshire SO53 4SJ was opened in 2001and comprises a community leisure centre/sports hall, 2 football pitches, cricket square, basketball court, skating area, 3 tennis courts, adventure playground, BMX track, multipurpose area, and car park.