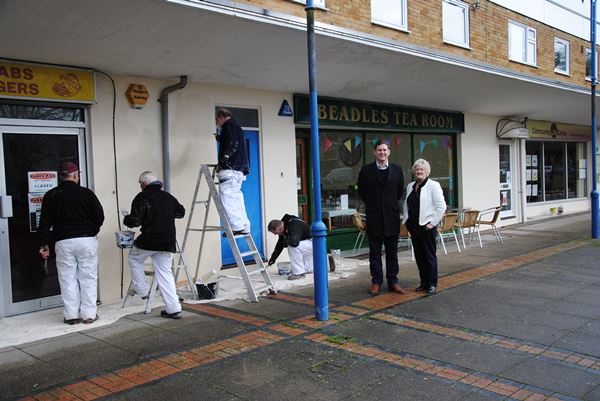 Fleming Avenue precinct gets a ' make over'
Fleming Avenue precinct in North Baddesley is benefiting from a 'make over.'
The upgrade includes repainting of the street furniture and shop fronts as well as landscaping of the area . The work began on Monday 27 November.
Leader of the Council, Councillor Phil North said: "I am delighted that we are able to give this area a fresh, new look. After discussions with Councillor Celia Dowden, we agreed that work to improve the whole area would be carried out. This started with a Sparkle Day in October where a team from Environmental Services swept roads and paths, cut back shrubs and collected more than two and a half tonnes of waste. 14 members of the public also helped us with a litter pick, gathering six bags of waste."
The overgrown shrubberies will be cleared and grassed over, and street furniture, lamp standards and bike racks will be cleaned or repainted. The building facades will also get a coat of paint to brighten up the area and paving slabs steam cleaned.
North Baddesley ward member, Councillor Celia Dowden said: " I welcome the investment from Test Valley Borough Council as this area is considered by many to be the centre of the village and many residents still rely on being able to get their daily purchases from the local area.
"As the ward councillor, I will encourage the community to plant bulbs and introduce colour through floral displays in the summer. If the area looks bright and inviting, more people may come and support the local facilities"