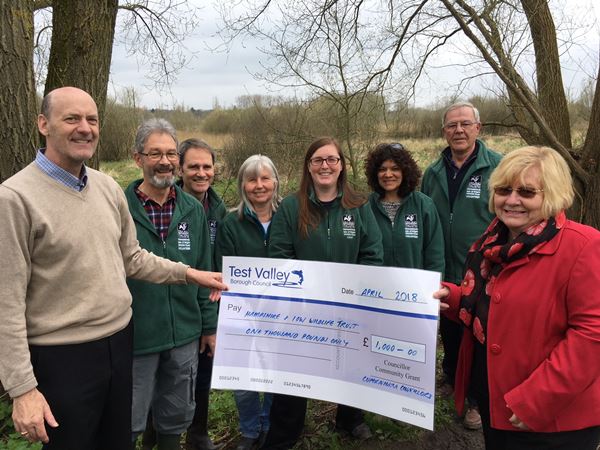 New pastures for volunteers at Fishlake Meadows with a little help from Test Valley Borough Council
Romsey ward Councillors have awarded a Councillor Community Grant of £1,000 to Hampshire & Isle of Wight Wildlife Trust, to contribute towards the start-up costs of the Friends of Fishlake Meadows volunteer group.
Fishlake Meadows, located north of Romsey, comprises of a mix of floodplain habitats, which are rarely seen in the region's chalk river valleys. The nature reserve supports more than 170 species of birds, including hunting osprey. It is also home to 24 species of dragonfly and damselfly, plus mammals such as otter and water vole.
Friends of Fishlake Meadows has organised eight working parties since the group formed in January 2018, with 39 volunteers contributing almost 300 hours of their time.
Romsey ward member, Councillor Dorothy Baverstock, said: "Almost 80 people have already expressed an interest in volunteering at Fishlake Meadows, which can only benefit the nature reserve and the visitor experience. This is such a unique and special habitat for the community to enjoy."
Hampshire & Isle of Wight Wildlife Trust Reserve Officer, Jo Armson, said: "We are delighted with the Friends of Fishlake Meadows' achievements so far and the grant will help us to continually to build on this success. With around 20 volunteers becoming wardens for Fishlake Meadows, we will now be able to increase our presence, engage with visitors and report on any issues. The volunteers will also be involved in dragonfly, butterfly and flower surveys."
Test Valley Borough Council's Councillor Community Grant scheme helps to fund community-led initiatives. Local councillors allocate funds to projects that they identify as meeting a need in the community, based on the feedback and ideas from residents.