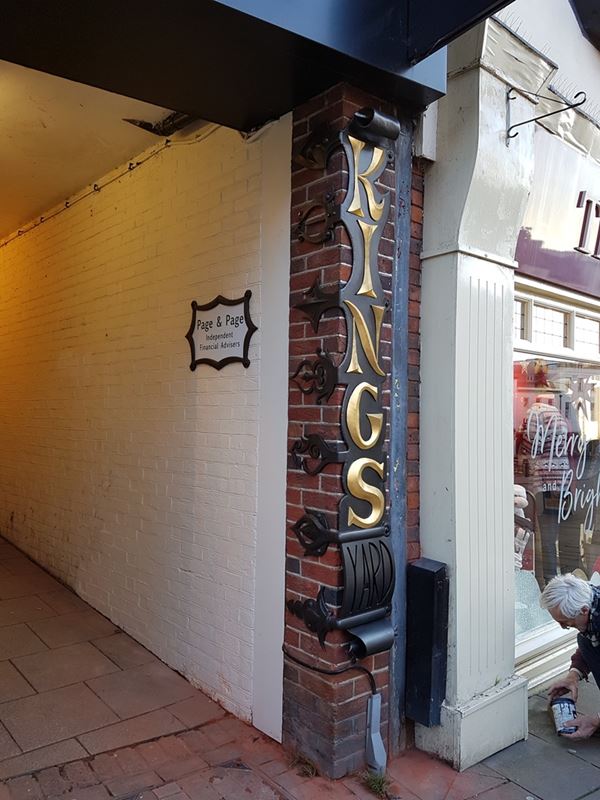 Final arches installed in Andover
The final arches designed to draw attention to the shops and businesses of Andover have been installed in the town's High Street.
Kings Yard and Shaw's Walk are the latest streets to benefit from the improved signage that will help to signpost shoppers. The two decorative arches have been designed and installed by renowned artist, Peter Clutterbuck.
The idea to enhance signage came from feedback from the Andover Summit, which aimed to rejuvenate the town centre, increase footfall and signpost shoppers. The artwork has been carried out through the renewed Andover Vision.
These arches are the final of the eight signs installed throughout the High Street at George Yard, Union Street, Globe Yard, Black Swan Yard, Waterloo Court and the Waterloo Court arch in Bridge Street.
Head of property and asset management at the council, Simon Ellis said: "This fantastic project has attracted a lot of attention after being installed throughout the town centre. I am very grateful to Peter for all his hard work and it's brilliant to see all the signs finished and in place."
The arches project is just one of a number of major initiatives that aim to rejuvenate the town centre. The council is also working with NEW masterplanning and HemingwayDesign to rejuvenate the town.