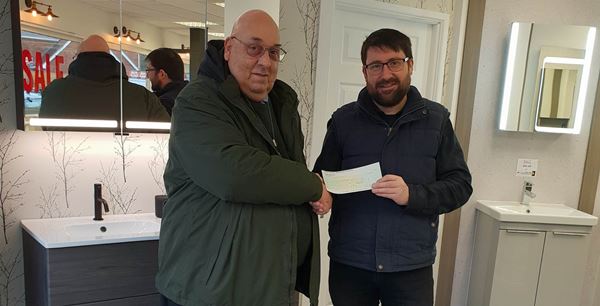 Making a splash in Andover
Andover business owner, Paul Ballantyne has picked up a £750 Business Incentive Grant after opening his new company, Andover Bathroom Collection.
With over 20 years of experience in the industry, Paul officially opened the doors to his new showroom in October 2018 and collected his grant from Test Valley Borough Council in January 2019.
Located on Weyhill Road in Andover, Paul's deceptively large showroom displays both contemporary and traditional style bathrooms, as well as a selection of walk-in showers and enclosures to suit all needs.
Paul said: "We've had a great start to the business, with many customers coming in to see our range of bathrooms on offer. We have plenty of space to show off our variety of bathrooms, which is great for customers to be able to visualise their new bathroom and also see the quality of the products.
"I am grateful to Test Valley Borough Council for the grant they have given me, which has been useful after undertaking extensive work on the showroom to make it perfect for our customers."
Local ward member councillor Phil Lashbrook visited Paul at his showroom to present the cheque.
Cllr Lashbrook said: "Paul's business is a brilliant addition to Andover's retail offering. Customers have the opportunity to properly visualise the products available and can see their quality first hand. They are also able to benefit from Paul's expert input.
"I am glad that the council is able to offer grants and support to businesses like Paul's and wish him all the best for the future".
The council's Business Incentive Grants are available to anyone looking to set up their own business in Test Valley.
Anyone who successfully applies for the grant will receive £750 if their business is still going strong six months later.