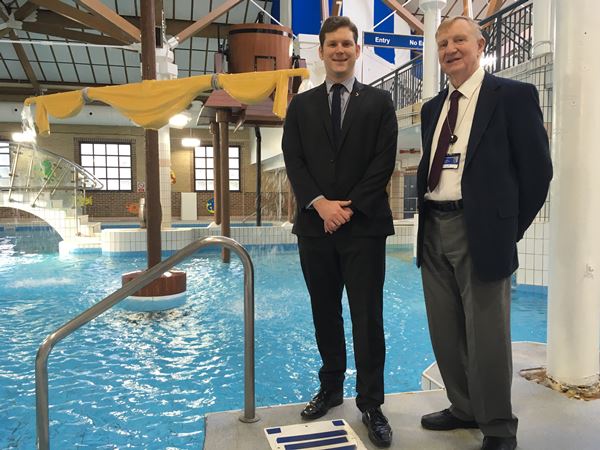 Romsey Rapids reopens following million-pound makeover
The Romsey Rapids pool and brand new changing rooms reopened on Saturday following a million-pound makeover.
The seven-figure sum has been plunged into revamping the Romsey Rapids leisure complex, with the installation of new swimming changing rooms and redecoration of the pool area. The changing area has been completely refurbished with new cubicles installed, including family change facilities. Larger lockers have also been fitted, as well as disabled access lockers. There is also a new vanity area with hairdryers, poolside showers and a disabled toilet and changing area.
It is hoped that the major refurbishment will encourage more people to take up swimming and provides a significantly enhanced facility for existing customers.
Test Valley Borough Council's community and leisure portfolio holder, Councillor Tony Ward, said: "The refurbished pool area looks absolutely fantastic. Romsey Rapids is incredibly popular, with thousands of customers passing through its doors each month. I am pleased that they will now be walking through those doors to a vastly improved pool area and hope they are as delighted as I am with the enhancements."
Matt Low, general manager from Romsey Rapids, explains: "Swimming is not just an important life skill, it's also a fun activity that can be enjoyed by people of all ages and abilities. We hope that these recent improvements at Romsey will encourage more people to take advantage of the many health benefits that swimming can offer.
"We have also introduced some fantastic new swimming and health suite memberships to make swimming more accessible. Contact the centre today for further information or visit our website."
And the improvement work continues, as early March will see the opening of a brand new health suite at the centre, showcasing a large traditional sauna, steam room and drench showers. It will also incorporate a relaxation area with a heated bench, dedicated changing areas, included disabled change, and treatment rooms. An infra-red sauna has also been included in the design to further aid customer relaxation and offer multiple health benefits.
A new air handling unit has also been installed which manages the air quality and temperature.