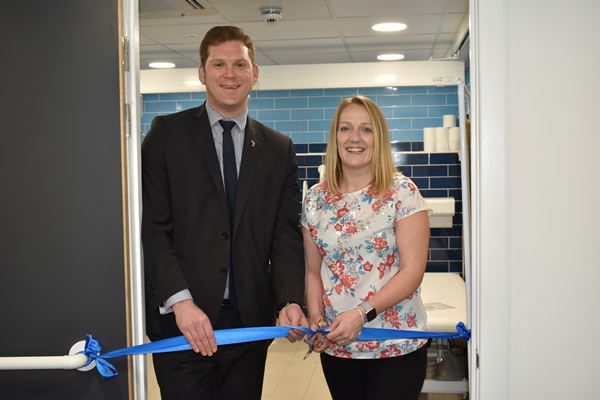 Changing Places to help change lives
Test Valley Borough Council's new Changing Places toilet in the Unity office near Andover bus station is officially open.
Local resident, Amy Attrill, cut the ribbon to open the new facility on Tuesday 29 January, which will benefit those with multiple and complex disabilities and is fully accessible with a height adjustable changing bench, basin and hoist.
Amy contacted the council as she struggled to find suitable facilities to change her son when away from home and set up a petition which attracted almost 2,000 supporters. This prompted the authority to look at options to deliver a new Changing Places toilet in Andover.
It is the first facility of its kind provided by the council in the town and is much larger than a standard disabled facility to help accommodate one or two carers.
Amy said: "I can't emphasise enough the difference this facility will make to those with complex disabilities. We often take for granted how easy it is for most of us to just pop to the loo when we're out and about but for those who require such specialist facilities, having access to a Changing Places toilet can mean the difference between them being able to leave the house or having to stay at home. This facility affords greater freedom to those with complex disabilities and their families and carers, and that is invaluable. It is also in the perfect location right next to the bus station.
"I would once again like to thank Test Valley Borough Council, Andover and District Mencap and Unity for their support to deliver this new Changing Places toilet, as well as all those who took the time to sign the petition. Finally, I would like to say a big thank you to ERIC children's bowel and bladder charity for inspiring me to undertake this campaign."
Leader of Test Valley Borough Council, Councillor Phil North, said: "It is fantastic that the new facility is finished and open. Amy came to us to express the difficulties she faced when out with her son and I am so pleased that we have been able to deliver a facility that will make a real difference to their lives and others like them."
Chris Dixon, CEO from Mencap, commented: "Andover and District Mencap are so proud of Amy Attrill, who has worked tirelessly to make her vision of another Changing Places facility in Andover a reality. We must thank TVBC for listening to Amy and working with her to not only fund the facility but also to identify a suitable location in the Unity office to house it. The community of Andover that need this Changing Places toilet will benefit enormously and make that trip into the town centre safe in the knowledge that their needs have now been met. Well done to all."
Unity chief executive, Terry Bishop, added: "It is wonderful that the Changing Places toilet is now open and I am once again delighted that we were able to accommodate it here in the Unity offices, particularly as our mobility service is such an important one for disabled people locally."
Places Leisure is also set to install an additional Changing Places toilet in the new Andover Leisure Centre.