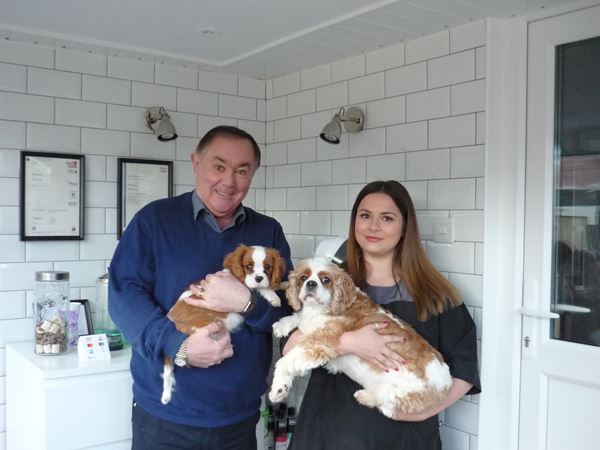 Millie Leads the Way
A Romsey business is the latest to benefit from a Business Incentive Grant from Test Valley Borough Council (TVBC).
Romsey Extra councillor Ian Hibberd visited Millie McDonagh to award her £750 grant funding to support her new dog boarding and grooming company.
Millie's new business, Lead The Way, is licensed by the council and offers a fully insured, friendly and personal dog walking service from her home in Campion Drive, Romsey.
Last year, Millie enrolled herself in a dog grooming course at Sparsholt College. She then approached TVBC's animal welfare officer and began planning for her own business.
She decided to start her own boarding and grooming business from her home in Romsey and makes use of the surrounding woodland in Mottisfont and Ampfield to walk her furry customers.
Millie said: "The advice and support I have received from the council has been incredibly helpful. The grant has enabled me to invest in my new company and I am already seeing a financial benefits. Starting your own business can be pretty daunting but I've had lots of help and so far everything is going to plan!
"I've had lots of happy customers and long may that continue."
Councillor Hibberd said: "It is very clear that Millie has a passion for what she does, and puts a lot of love and care into her work. She has worked very hard to get this business started, and is thoroughly deserving of our Business Incentive Grant.
"I wish her the best of luck taking the business forward and it's lovely to have her services in Romsey for everyone to make the most of."
The Council's Business Incentive Grants are available to anyone looking to set up their own business in Test Valley.
Anyone who successfully applies for the grant will receive £750 if their business is still going strong six months later.