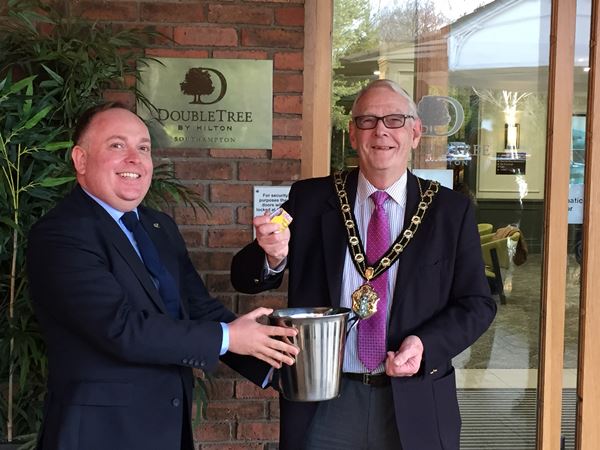 Winner drawn in visitor guide contest
A lucky winner has been drawn for the 2018 Test Valley Visitor Guide competition.
Mayor of Test Valley, councillor Ian Carr MBE, selected the name for the prize of dinner followed by bed and breakfast for two at the DoubleTree by Hilton, Southampton.
Laura Mcghin was drawn from a champagne bucket as the winner earlier this month after entering the contest when looking for activities and adventures in Hampshire.
The competition takes place every year through the Test Valley Visitor Guide, which shows off the best places to eat, drink and visit across the borough, as well as having all the dates and information for events and festivals taking place through the year.
Laura, from Exeter, said she opted to take part in the competition after coming across the guide when looking at riding motorbikes around the Thruxton race circuit.
She said: "I am absolutely thrilled with my wonderful win. I am getting married in June and this will be a great pre-honeymoon treat for us. Thank you so much."
Mayor councillor Ian Carr MBE added: "It's always a nice thing to be able to do when drawing a prize winner! Many congratulations to Laura in winning and I think this contest goes to show the pull of what Test Valley has to offer."
Economic development and tourism portfolio holder, councillor David Drew said: "I'm delighted that Laura has won the opportunity to spend more time in Test Valley and enjoy the hospitality at the DoubleTree by Hilton Southampton. Test Valley continues to help the local tourism industry. The Test Valley Visitor Guide and its competition is a great way to gain valuable feedback. The exciting 2019 Guide should be ready in the next few weeks and will be distributed extensively across southern England.
"I am immensely grateful to the DoubleTree team who continue to support the guide by offering a prize to those who complete the feedback form."
Ten per cent of Test Valley's businesses are involved in the tourism industry which employs nearly 5,000 people.
General manager of DoubleTree Hilton Southampton, Richard Groome, said: "We absolutely love working in partnership with Test Valley Borough Council and were delighted to sponsor the competition in the Test Valley Visitor Guide 2018.
"We really look forward to hosting the lucky winners for their stay top come back and explore more of what the fantastic Test Valley has to showcase."