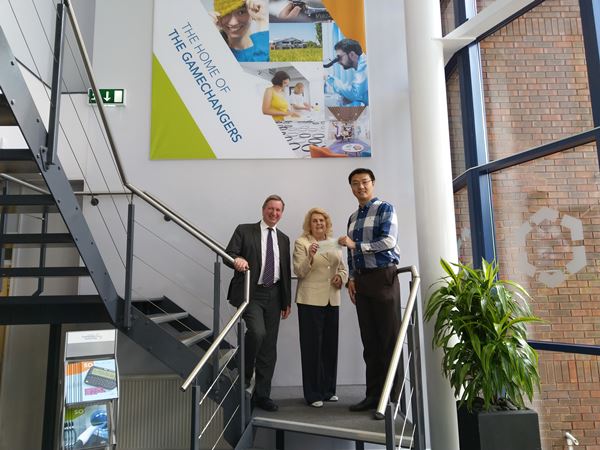 Cash boost squared away for engineering firm
A software engineering company based at the University of Southampton Science Park has been given a £750 cash boost from Test Valley Borough Council.
C Squared Visions, based at the science park's Innovation Centre, was set up by Dr Zhonglun Cai and his two co-founders following their industrial experiences and PhDs at the University of Southampton.
The company designs and develops camera-operated systems for use on mass production lines to help with quality control of machinery. The science park's Catalyst Centre, where the business is based, helps to nurture technology start-ups with free office space and business support.
Zhonglun said: "We are very grateful for the support that we've received from the council and also the science park. For us, to be able to speak to experts is a real advantage and the council has played a big part in our successful start so far."
Ward member for Chilworth, Nursling and Rownhams, councillor Alison Finlay, said: "I'm always keen to support businesses at the science park. Zhonglun and his co-founders have all worked extremely hard since their PhDs in Southampton so I'm glad we could lend a helping hand with this grant."
The council's Business Incentive Grants are available to anyone looking to set up their own business in Test Valley. Anyone who successfully applies for the grant will receive a grant of £750 if their business is still going strong six months later.
These funds have become available to the community as a consequence of the council's prudent investments, financial management and use of the New Homes Bonus.