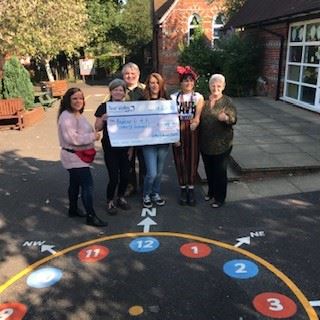 Primary school super-intending to have a wonderful new playground
Andover C of E primary school has recently been awarded a £1,000 grant from Test Valley borough council towards playground enhancements, after applying for a Councillor Community Grant.
The school has used the funding to provide an enriched play area, benefitting more than 200 pupils. The space has been designed to encourage interactive games and includes a compass and a clock painted onto the play area.
Dawn Arlow, school business manager at Andover C of E Primary School, said: "This space gives pupils opportunity to explore and develop many key skills and is an important part of childrens' education.
"Many of us have fond memories of playing in the playground at school and I am pleased that we have been able to provide an updated and inspiring environment for children to explore outdoors at our school."
St Mary's ward councillor Iris Andersen presented the cheque and said: "It was wonderful to visit the school and see the new designs painted on the playground. I am sure that the pupils at Andover C of E Primary School will enjoy this space for many years to come."