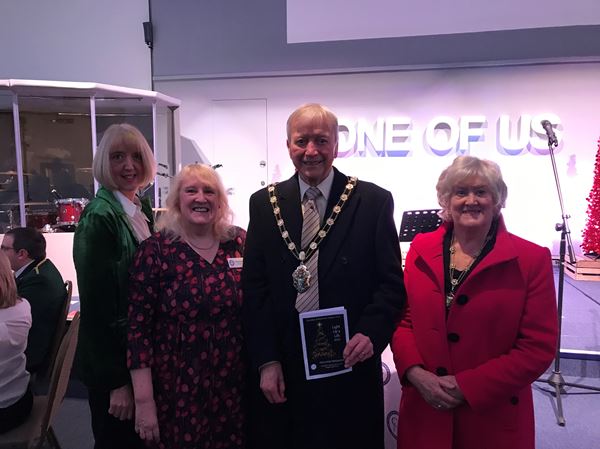 Mayor of Test Valley attends hospice trust's annual act of remembrance
The Mayor of Test Valley, Cllr Alan Dowden, and Mayoress, Cllr Celia Dowden, were welcomed by the Countess of Brecknock Hospice Trust as they attended their annual act of remembrance and celebration.
It was the trust's Light Up a Life event, where people dedicate a light in memory of a loved one and celebrate their life.
These are then recognised in a book of remembrance and by a light on a Christmas Tree at the entrance to the hospice.
The Mayor and Mayoress watched the service at Andover Baptist Church, which was led by Hampshire Hospitals and Hospice Chaplain, Rev'd Sarah Wehr.
Test Valley Brass and the Andover Ladies Choir also supported the event, which had a programme of carols, readings and prayers.
The Mayor and Mayoress said:
"We really enjoyed being part of this poignant and thoughtful service of dedication and remembrance and meeting families and supporters of the Hospice Charity.
"It's a special event and was amazing to see lots of members of the community there.
"Well done to the Countess of Brecknock Hospice Trust for a hosting a wonderful and moving event."