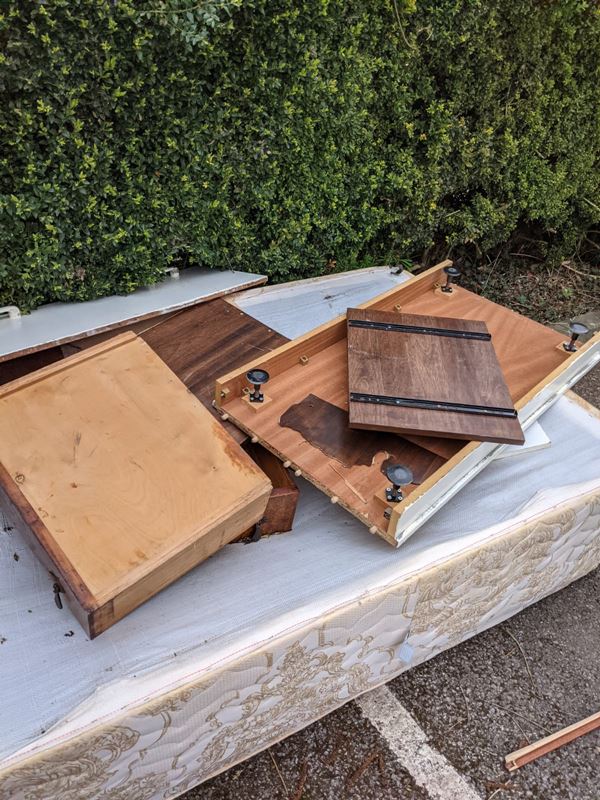 Man given suspended prison sentence after TVBC fly-tip prosecution
A man from Southampton has been handed a suspended prison sentence and made to pay more than £1,500 after fly-tipping three times in the space of six weeks across Romsey and Wellow.
Kenneth Dibden, of Salisbury Road, Southampton, left the waste at two laybys in Luzborough Lane, Romsey, in February last year, followed by a further fly-tip at Tanners Lane, Wellow, the next month, before a final offence at Abbey Park Industrial Estate, Romsey, at the end of March.
An investigation was launched by Test Valley Borough Council after Mr Dibden had been spotted at his first offence in February last year. Then, the authority received a report of a man acting suspiciously in the Stoneymarsh car park. He then left in a vehicle after realising he had been noticed on March 20.
That vehicle then travelled to Tanners Lane, by the industrial units at Tanners Court. Where Dibben was observed by Test Valley's Deputy Leader leaving a bath, wooden door and plasterboard in a layby. Then, a further fly-tip occurred further down the same road at a layby opposite a residential property. Hazardous waste, concrete, broken tiles, insulation and broken furniture were all dumped.
Finally, eight days later, TVBC received a report of a fly-tip at Abbey Park Industrial Estate, where three double mattresses, a single mattress, three divan bases and broken furniture were left. Mr Dibden's vehicle was clearly seen on CCTV.
At Southampton Magistrates Court, he was ordered to pay £500 costs for each of the three offences, and a £128 victim surcharge, on top of the prison time suspended for 18 months. He was also banned from driving for three months.
The successful prosecution follows a year in which the council lost no cases of fly-tipping prosecutions in court. During 2020-21, 17 people were prosecuted for waste-related offences, with the authority's enforcement team continuing to work throughout the Covid-19 pandemic.
The council's zero-tolerance approach to fly-tipping means that every single case is investigated thoroughly, with evidence being found through various means, including covert cameras. These are positioned at multiple locations all around the borough, but are moved regularly so that the chances of capturing a criminal are greatly increased.
Prison time, suspended custodial sentences and tens of thousands of pounds in fines are just some of the results over recent prosecutions for waste-related criminal activity. Wherever possible, TVBC will seek to prosecute and reclaim its costs for investigating and clearing the fly-tip.
Portfolio holder, councillor Nick Adams-King, said: "Often I say how grotesque fly-tipping is, or any offence to do with waste, for that matter. I was glad to be able to play a part in bringing this offender to justice. We often see things that seem suspicious, if you do then please let the Council know, you never know when it will help an investigation and a prosecution."
"It is absolutely not right that these criminals can leave their waste somewhere and expect somebody else to clear it up, and then leave the taxpayer to foot the bill. That is why our approach is one of zero-tolerance so that we can find those responsible, and make sure that they are the ones who pay, both literally and from a justice perspective. I really hope that this approach continues to deter criminals, as we have one of the best prosecution rates in Hampshire for waste-related offences.
"I think it's also vital that we highlight the level of work that goes on among our environment service's enforcement team, the legal service and every other branch of TVBC that works together. My thanks once again go to our officers, who continue to work whatever the conditions, and our legal service which has presented another case so successfully to the court. If you want advice on waste disposal, please do speak to us. If you are thinking of fly-tipping, the simple message is; we will find you."