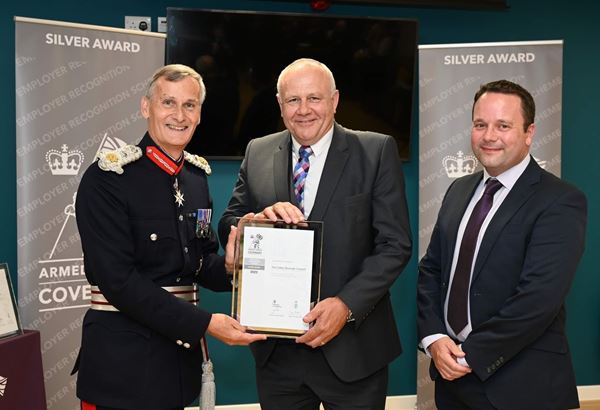 Test Valley scoops silver award for military community support
Test Valley Borough Council has scooped a silver award from the Defence Employer Recognition Scheme at an awards ceremony in Portsmouth earlier this month, in recognition of its work to support military personnel, their families and veterans.
In December 2019, the council's Overview and Scrutiny Committee (OSCOM) requested a review of the authority's commitment to the Armed Forces Community Covenant. They set up a dedicated panel to undertake the work, led by Armed Forces Champion, Councillor Nick Matthews.
Over the past few years, the council has boosted its support for the Armed Forces, and in 2021 the authority picked up a bronze award for its work.
Since then, it has focused on enhancing communication with partner organisations and leading a more inclusive approach to supporting the armed forces community, which helped to propel it into the silver award position.
On 7 September 2022, organisations from across the country gathered for the ceremony at HMS King Alfred in Portsmouth, with Councillor Nick Matthews collecting the award on behalf of TVBC.
Armed Forces Champion, councillor Nick Matthews, said: "Our OSCOM working panel conducted significant research in to the intricacies of the Armed Forces Covenant, and indeed what obligations were being met by TVBC. Whilst we established TVBC was fulfilling its obligations, there was more that could be done, and we wanted to go above and beyond. There were many areas we identified, including health and mental support, business and resettlement engagement networks, community engagement, education for service children and, of course, housing.
"To achieve and fulfil such aspirations, we needed to form a Civilian Military Forum (CMF). This was the first and main recommendation we put to the council. This forum would be the enabler, so required forming the right team.
"Since its formation, all members and partners have assisted us in these achievements. From the RBL's Brew, Banjos and Banter Club, to our mental health support, health partnerships and business networks.
"I am genuinely thrilled and proud of the team's efforts, and this award is testament to all members of the CMF."
According to the Government website, the Defence Employer Recognition Scheme encourages employers to support defence and inspire others to do the same. The scheme encompasses bronze, silver and gold awards for employer organisations that pledge, demonstrate or advocate support to defence and the armed forces community, and align their values with the Armed Forces Covenant.