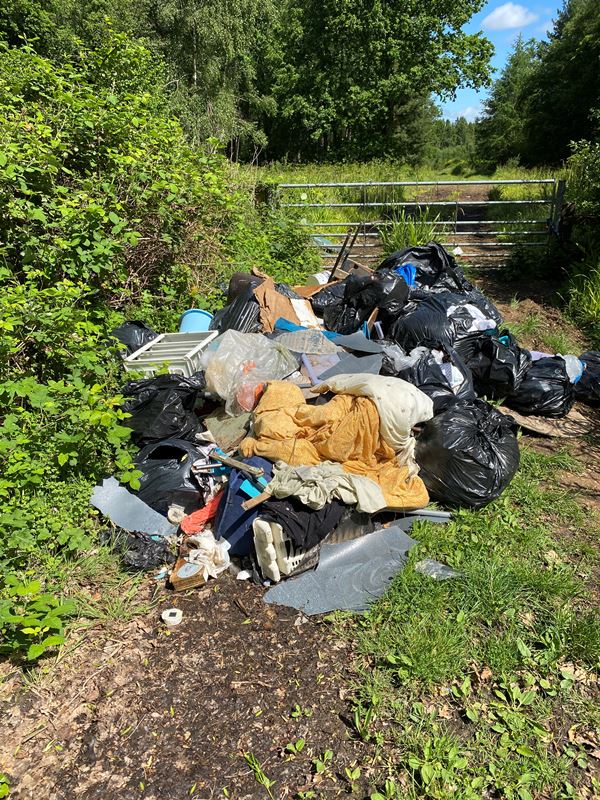 Man sentenced for fly-tipping in North Baddesley after mispricing waste clearance job
A man has been handed a prison sentence after fly-tipping a large amount of waste on a rural lane in North Baddesley in spring last year.
George Dibden, 29, of Parkside in Totton, was given three months in custody, to be served concurrently with a previous 38-month sentence for an unrelated incident and ordered to pay £240 compensation to the landowner.
Around 19 May 2022, Test Valley Borough Council (TVBC) received a report of a large fly-tip, which was blocking a gateway to a private wood.
The waste consisted of vinyl floor covering, wood, bedding, plastic containers and furniture, carpet, loose plastic wrapping and a large number of black refuse bags containing household waste including food waste.
Evidence within it showed that it originated from two customers of G&D Services, Dibden's business, and they had paid him to remove the waste.
However, he dumped the rubbish after incorrectly pricing the jobs.
Appearing at Southampton Magistrates' Court on 16 January, Dibden pleaded guilty and apologised to TVBC for wasting their time.
Portfolio holder for environmental services, Councillor Nick Adams-King, said:
"It's great to see another fly-tipping prosecution in Test Valley. It's another brilliant example of the hard work of our team in cracking down on fly-tipping across the borough. Dumping waste is completely unacceptable, anti-social and inexcusable and we will make sure anyone caught doing so will face the consequences.
"A fly-tip of this scale is not only a danger to residents and local wildlife, but is also a stain on beautiful Test Valley which is incredibly frustrating when our teams work so hard to keep the area rubbish-free."