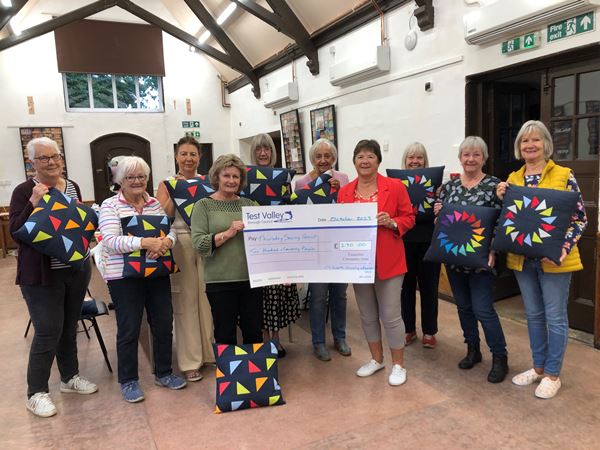 Council grant has sewing group sitting pretty
A councillor community grant from Test Valley Borough Council has enabled a local sewing group to make their sessions more comfortable with a brand new set of cushions.
The Thursday Sewing Group are a group of 16 retired women that meet at Nursling & Rownhams Village Hall on the second Thursday of each month to sew, knit, crochet and socialise. They have been meeting for the last nine years apart from the lockdown period in 2020.
A £270 grant awarded by their local borough councillors has enabled the group to purchase the materials for and make a set of brightly coloured cushions so they can sit for longer to complete their projects. Although the group typically meets for a three-hour session, twice a year they have a project day where they make a specific item, often with a project leader.
Pam Lyon, who runs the sewing group, said, "It was really great to receive the grant and we so appreciate it. We're all in our 70s now and what a difference it makes to be comfortable!"
Cllr Terese Swain, one of the three ward councillors for Chilworth, Nursling & Rownhams who awarded the grant, said, "The Thursday sewing group applied for a grant on the basis that the chairs in the Community Centre where they meet are not particularly comfortable - and that they were of an age where they value their comfort!
"As ward councillors we were only too pleased to help. We support a variety of local groups through our community grants and this is one of the more colourful outcomes we've seen so far. We're all looking forward to seeing what the group create at their Christmas workshop, which will be their first longer session with the cushions, and we hope the cushions give them excellent service for years to come."
The Test Valley borough councillors' community grant scheme has been created to support local people in establishing their own priorities and to deliver local solutions to local issues. It also aims to encourage community led initiatives, supported by Borough councillors who can play an active part in helping their communities deliver their ambitions.
Not-for-profit, charitable community groups and organisations can apply for a grant up to two-thirds of the cost of their project or activity, up to a maximum of £1,000.
Find out more about how to apply for a councillor community grants and who's eligible at: https://www.testvalley.gov.uk/communityandleisure/workingwithcommunities/communitygrants/test-valley-borough-councillors-community-grant.